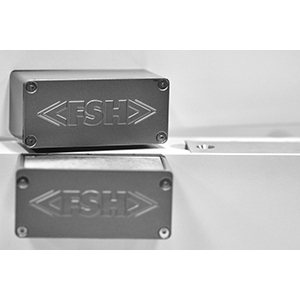 The High Security Door Monitoring Sensor FSS1 is designed to replace traditional magnetic balanced reed sensors, using a smart combination of Hall Effect sensors and unique magnetic-array-plates allowing the unit to be re-calibrated.
FSH developed FSS1 as a state-of-the-art door monitoring solution with a flush mount version for new construction, and surface mount version as a superior replacement for traditional magnetic balanced reed sensors.
The FSS1 Series High Security Door Monitoring Sensor is specifically developed for high security applications in government and military installations. Utilising seven magnetic sensors, FSS1 is able to detect a unique magnetic footprint from an array of magnets on the magnetic face plate of the door. One of the sensors detects the position of the magnetic face plate in relation to the device, while the other six sensors determine the polarity, size, strength and position of the magnets on the unique magnetic face plate in relation to the memorised pattern. The FSS1 is also equipped with sophisticated anti-tamper facilities.
FSH's FSS1 is developed and manufactured in Australia for the Australian market. It has received Security Level 4 (highest possible) approval from the Security Construction and Equipment Committee of the Australian Federal Government.
This year's Security Exhibition and Conference was held at Melbourne Convention & Exhibition Centre. The 31st annual edition of the event hosted thousands of new solutions and latest product versions showcased in one complete destination. Many leading security product and service suppliers including use this event as a platform to launch or preview several new products to over four thousand industry professionals.